When researching countertop styles, a term you will likely come across is "waterfall edges." The very idea of having a "waterfall" in the kitchen is intriguing for many, which is why we've created this guide.
What Are Waterfall Edges for Countertops?
Most countertops end abruptly at the edge of a cabinet. Waterfall countertops, on the other hand, create an edge that cascades all the way to the floor. There is generally no visible seam at the point where the counter makes a 45-degree angle. As such, it appears to flow seamlessly on all sides, hence the name.
People often choose a waterfall design because they want to showcase their countertops. Accordingly, waterfall edges are typically made from high-end materials such as marble or granite. Even so, they can actually be created from virtually any material, including wood and concrete.
Waterfall counter edges technically have nothing to do with water. However, they provide warm aesthetics and an eye-catching appeal that will make your kitchen look and feel more luxurious.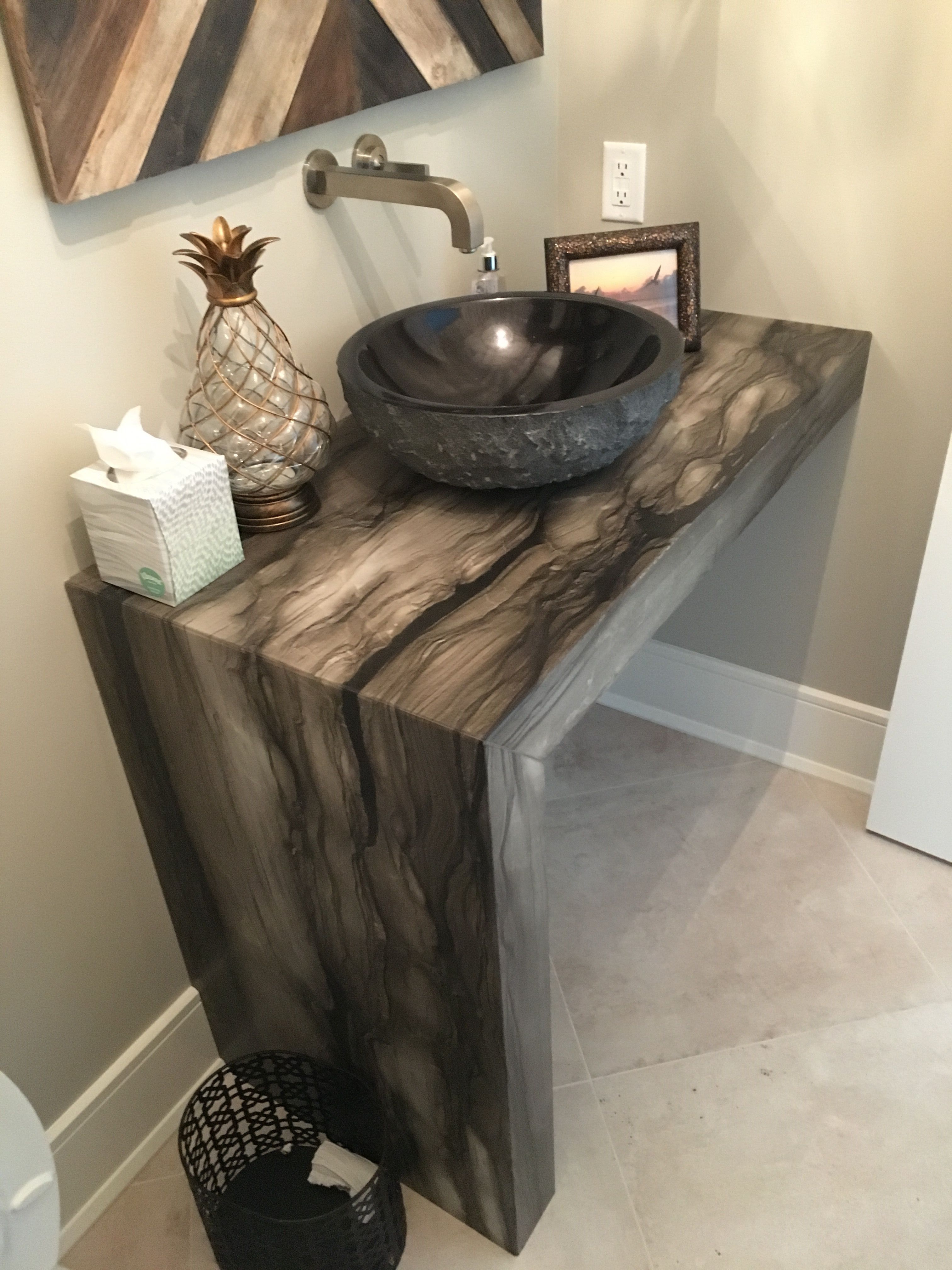 Benefits of Waterfall Countertops
There are numerous benefits to choosing waterfall kitchen countertops. Here are just a few of them:


Waterfall counters create a stunning focal point for any kitchen.


They're extremely practical and can be used to create a bar or kitchen workstation.


If you're limited on space, a waterfall countertop lets you use one surface for more than one purpose. For example, you could tuck chairs or barstools neatly underneath a kitchen island so that it doubles as an eating space.


Since countertops, in general, are very durable, you can use waterfall edges to provide additional protection for your kitchen cabinets. If you have exposed sides and regularly move things in and out, a waterfall countertop might help you prevent damage.


Spills and splatters are more likely to affect the top rather than the sides of your countertop. Consequently, waterfall countertops are extremely easy to care for because they are less susceptible to stains.


Cleaning them is very easy. In most cases, all you need to do is wipe them down occasionally with a damp cloth and mild soap.


Waterfall countertops don't necessarily have to match your other counters. So you can have one installed even if you are not looking to replace the rest of your countertops.


Waterfall edges are not just a passing design fad. This means the countertop you install today will continue looking modern and trendy for years to come.


Where to Use Waterfall Countertops
Although mainly used in the kitchen, waterfall counters are practical in a number of other areas such as:


Dining rooms


A home office


Bathrooms


Utility rooms


Mud rooms


Foyers


Entryways


Waterfall countertops do not need to extend to the floor on all sides. So if you have a set of cabinets with only one side exposed, you could place a waterfall edge only on that end. Or you could have a countertop that goes only halfway down on either side. The sky is the limit when it comes to design, which means you can create a custom look that truly suits your personality.
Other Considerations
Once you've decided on a waterfall edge, the next thing you must do is find an experienced contractor. Someone familiar with waterfall countertops will guarantee the pieces flow seamlessly and stand up to rugged wear.
Here at Aphrodite Marble and Granite, we've successfully installed hundreds of waterfall countertops in New Jersey homes. As experienced professionals, we can easily customize a waterfall countertop edge to showcase your beautiful kitchen. Don't hesitate to contact us today to schedule a free consultation.